Powsurf, The Strapless Riding
Our tips for a good starting

Powsurf, what's about?
pow for powder, surf for the reference to the ocean, powsurf is a comeback to the roots of deep snow boarding.
Like on a wave surfboard, feet are not strapped onto the board and a simple leash avoids the powsurf to go down alone.
Like on the surf spot where you go back to the wave break zone by the strength of your shoulders, powsurf rider prefers to walk or snowshoe on his powder spot.
According to Jeremy Jones, the designer of the "Mountain surfer" powsurf boards we use in our sessions :

"It makes me fell I'm a little kid again !" (Jérémy Jones)



Is powsurfing suitable for every level?
More pure, more playful, more subtle, powsurfing is a true rebirth of technique from the ground up.
Accessibility to everybody : Powsurfing is not just for good snowboarders. Meanwhile, balance is the most important thing, the gesture can't be enforced and a beginner will quickly get into the particularities of its driving. Compared to classic snowboarding, the loss of control caused by feet unstrapped, is gained in agility.
200% playful: Powsurfing requires a communion with Mother Snow. The feeling of fluidity in the midst of still mountains is very intense. A small gentle slope is often enough to provide big thrills, without requiring extreme commitment. Falling is nothing but a roll in the deep snow rather than a fall with your feet tied up as with a snowboard. Learning in powsurfing is mostly about fun and play!

Fitness: powsurfing spirit is that of one of surfing where paddling is fully part of the practice. The game is to find slopes in proper condition, to take time to be in touch with the field, to go up the run. The reward of the walk is the descent and you will be motivated more than ever to get back up. And there's no better way to improve your heart rate!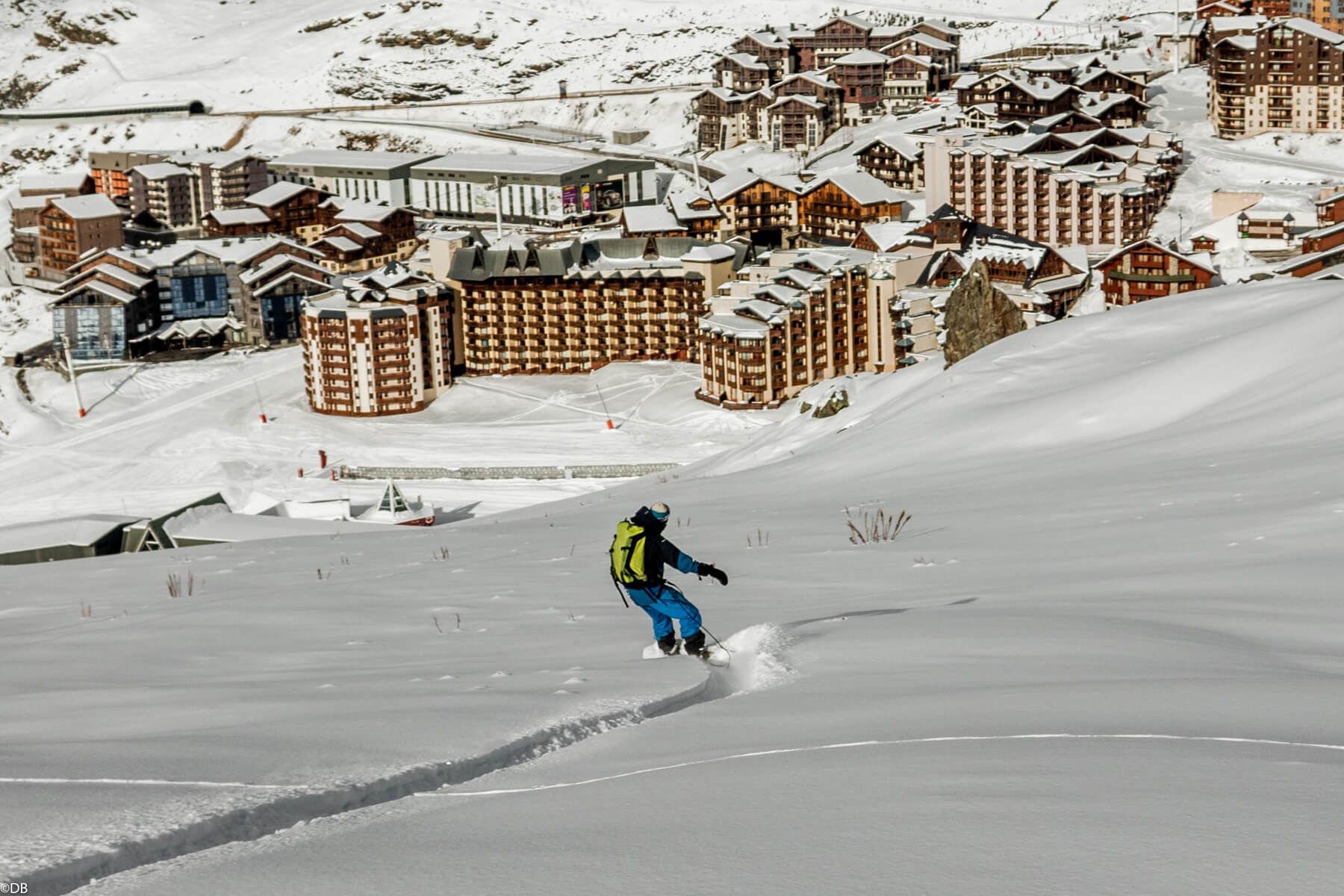 Where and how learning powsurf?
The shutdown of the ski lifts at Christmas 2020 will have offered an unprecedented opportunity to start or improve your powsurfing skills. Here's why :
Lifts at rest: Val Thorens ski area will offer huge virgin spaces usually over tracked by off-piste riders and here the 2300 meters high resort guarantee an exceptional quality of cold powder snow from December to february.
Our background: Skicool instructors have long-time made powsurfing their little secret garden and on every winter occasion notification is given for powsurfing sessions with friends. This Christmas will be the opportunity of a broader sharing with riders stuck by the closed lifts.
Powsurf boards on hand: Ski Cool has a unique range of the latest generation models of Jones Snowboards, the Mountain Surfer. These 152-centimeter powsurfs are branded by Jeremy Jones himself, in association with surf shaper Chris Christenson. This is the guarantee of a long term experience dedicated to this technical model but forgiving for the most varied snow conditions.
Classic softwear: boots are simple soft snow boots or snowboard boots, complemented by good snow clothing and gloves. Helmets are recommanded.
Guaranteed safety: powsurf means snowy wilderness and this requires the safety rules expected in the mountains. At Ski Cool, the sessions will be supervised by qualified instructors with off-piste qualifications. Safety packs (DVA, shovel, probe, bag) are provided.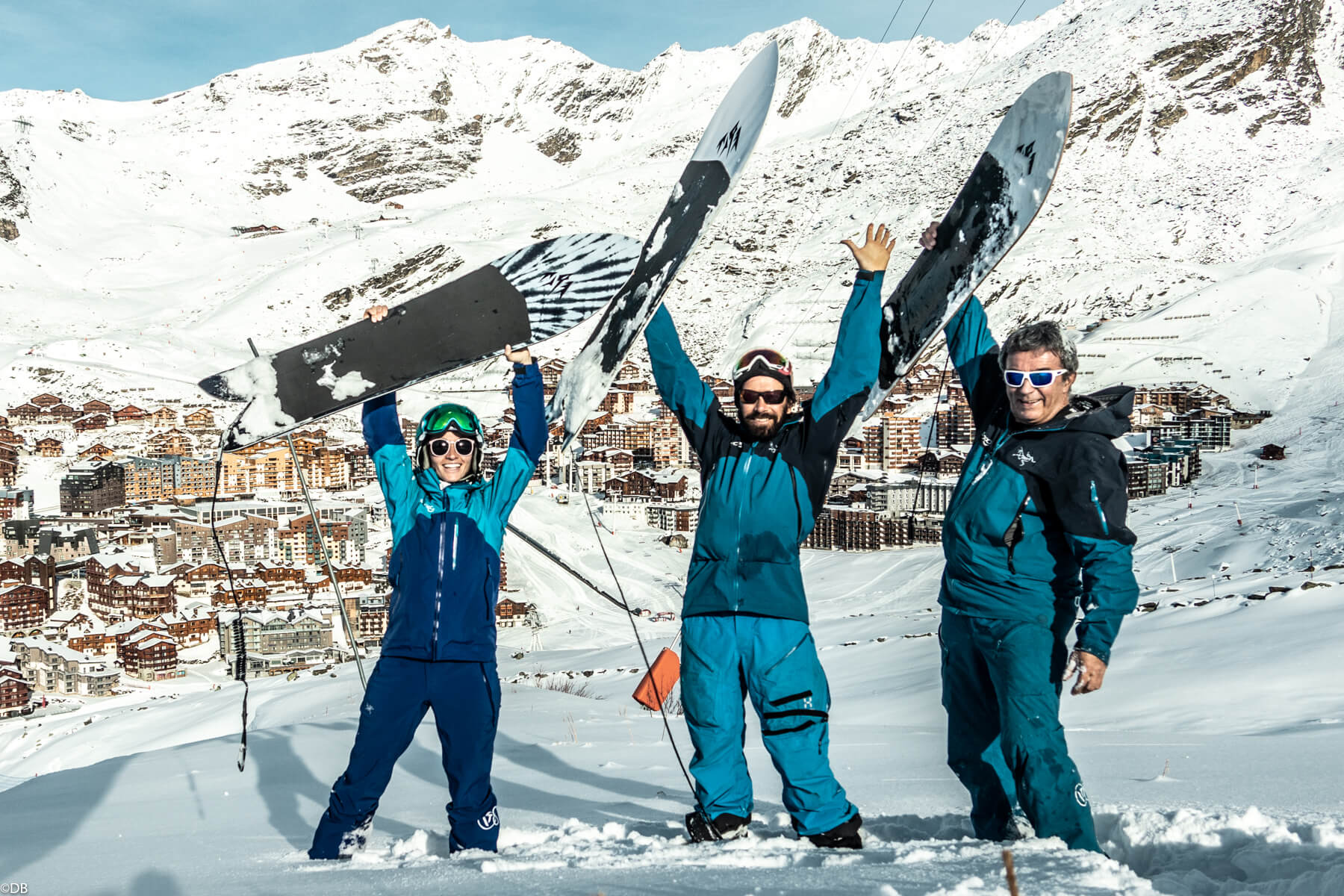 Jones Powsurf Sessions presented by Ski Cool
Limited to 5 people and an instructor, a Ski Cool Powsurf Session lasts 2h30 : 0h30 of safety training (covid mask mandatory) and access to the spot followed by 2h00 of powsurfing session.
The loan of boards, snowshoes and safety pack is included in the price for the duration of the session.
Moreover, each session is filmed and/or photographed and the edits will be available on whatsapp and instagram at the end of the session.
As you'll see, the vibe is close to a kids sledge party, falls are like rolls, feeling of fluidity will have taste of a coming back ... and we confess, you may come back home soaked !